7 Reasons Why You Should Use A Content Planner (And How To Nail It)
Social media content planners are becoming more and more popular and that's because they are super useful. In the digital marketing world, planning is everything and with a content planner, it's so much easier.
Having your entire social media marketing strategy planned out sounds like a lot of work but will actually save you time. Not to mention, spare you the panic attacks that go with NOT planning ahead.
You can use a simple planner or go all out with a very in-depth and complex tool, it's up to you to decide. But whatever you choose, just having one will already improve your strategy and make your life less stressful.
And in this post, we will show you just why you need to incorporate the use of a content planner into your marketing strategy. We'll also guide you on how to make the most of such planners, as well as introduce you to SocialPlanner, our favourite tool.
Let's get to it, shall we?
1. You'll Save Lots Of Time With A Content Planner
You want your marketing strategy to be given the proper attention and care to get the best results. That means investing a lot of time and effort into planning out every day's social media content. When you're using a content planner, you can plan every detail ahead, making sure all your daily goals are reached.
By planning your content ahead, you avoid scrambling to find posts that you can share or looking for inspiration for something new. This may mean you'll have to spend some time getting everything planned. But in the long run, you are certainly saving yourself a lot of time and stress.
And time saved on this aspect of your strategy leaves you with time dedicated to other matters. You won't have to multitask during the day or after midnight when you've taken care of your other tasks and chores.
Being organised means you won't have to 'babysit' your social media networks. By using the right content planner, you can schedule posts for days or even weeks ahead. Also, if you've scheduled your content for specific times, you won't have to stay up to make sure your content is shared at peak times.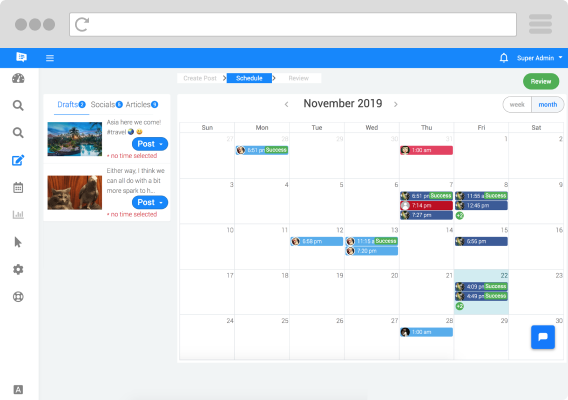 (Screenshot taken from our Social Media Marketing Tool: SocialPlanner.io – Sign up for a free trial!)
2. You Can Be More Ambitious
When you don't have to worry about the day-to-day scheduling of content, you can focus on the strategies that you're using. You can spend more time focusing on them and create more detailed, researched content.
Also, you (and your team) can decide whether or not you'll be partnering up with others or where to expand on social media. You can look at running contests and competitions and even start running multiple campaigns.
When you're not so worried about the publishing of your content, you will be left with more time for building impressive strategies.
3. Content Planner Usage Lead To Better-Quality Content
With the use of a content planner, you've got the opportunity to enhance the quality of your content. You can spend more time (that's what it's all about, really) on fine-tuning your content. This way, the quality of your content will improve and attract more views.
When you're making use of a proper scheduling tool, your team can put more of their brain juices into coming up with fresh ideas. If you and your team don't have to brainstorm new content every day, it will be easier for them to think outside the box.
With less pressure on coming up with something good immediately, creativity can blossom. And with a content planner, you've got a long-term vision of what you want to achieve – great for content creation.
4. You'll Be More Consistent
Think about it – you've got a schedule that has you posting regularly. That means that instead of sharing content when you feel inspired, you're sharing consistently.
As a digital marketer, you will know that creating content consistently is the key to success. There is no shortcut, you've got to put in the hours. A content planner helps you to make sure that you've got new content being shared as much as is needed.
Of course, the posts, blogs and tweets you share will depend on your brand's needs. But you'll be showing your audience that you are reliable and stable. That's always a good thing, especially for creating a sense of trust.
Consistent content will get a whole lot more engagement as well. Your organic reach will increase and you'll gain more followers. All in all, consistency is very important.
5. Reduce The Chance Of Mistakes
When it comes to digital marketing and high-quality content, spelling matters, and it matters a lot. When people see content that is filled with grammar issues and incorrect spelling, they'll move right along. Bad spelling is the result of shoddy writing and no one will take it seriously.
When you're using a content planner, your content will be created ahead of time. This will give you and your team the opportunity to make sure everything is spelt correctly. You can also ensure that everything makes sense and isn't going to confuse your audience.
Fact-checking can be done and you can even hire an editor to proofread your content, just to be sure.
7. Never Miss Important Moments With A Content Planner
Since you're planning your content ahead, you can keep special occasions and holidays in mind. You won't miss any unique chances to promote your content. Additionally, you can plan strategies to use holidays etc to your advantage.
Content planners are great for making sure that you don't miss out on any topical or creative content-sharing opportunities.
Now you've got an idea of all the perks that you can enjoy when you rope in the use of a good content planner.
What next?
Well, now we discuss how to create a planner that will benefit your content strategy.
Create A Great Social Media Content Planner
You may be daunted by the idea of creating your own planner but it really isn't as complicated as it sounds. We'll go through the necessary steps with you. Once you're done, you'll feel much more empowered.
Step 1 – Audit Your Networks And Content
It is very important to conduct a proper audit of your content. Before you can head forward, you need to know what got you this far. You want to take a look at what you've got going for your brand already. If you examine your current efforts on social media, you'll see what needs improvement. 
When you have done a proper audit, you will have a clearer idea of your brand's audience and personas. You'll know more about outdated profiles and any imposter accounts.
With an audit, you can also establish fresh and relevant KPIs (Key Performance Indicators) for all your social media networks. Then you can create an in-depth marketing strategy to meet your brand's needs.
If you have a really detailed audit, you will be able to know who to hold accountable for which tasks. This makes management easier. Also, you will be able to see which of your posts and campaigns are the most successful.
Once you've got all the information you need, you will be able to create a sensible and realistic budget. You'll know how to move forward with your marketing campaign(s).
Step 2 – Choose Your Social Channels
Before you can use a content planner, you will have to establish which social media networks you want to use. While it may be tempting to use all the platforms at your disposal, that may not be the best move. 
You should think carefully about your target audience. Are they active on all the social networks? It will be difficult enough to stay active on the most important networks. Adding unnecessary networks to your social media plate won't be the wisest idea.
Do some research about your audience and their behaviour. Only then should you make a decision about the social media platforms you will dedicate your efforts to.
Step 3 – Choose The Data Your Content Planner Will Track
By this point, you will be figuring out what your content planner is going to look like and how you'll use it. You will want to decide exactly which of your data the planner will focus on. 
If you're starting afresh, you should be okay with a simple spreadsheet. This should indicate the platforms you're using, the dates on which you're publishing and at what times. Even if you're more established, you'll want to check the points we mention here.
You will want to keep track of the content you shared – the blogs, tweets, quotes etc – as well. Also, make note of the visuals you share to prevent sharing the same thing twice, no matter how funny it is.
Have links to your published posts saved for easy access in case it needs to be updated or changed. Consider also keeping track of platform-specific content you share such as live videos on Facebook, Instagram Stories and polls on Twitter. If your social media campaigns are running along with ad campaigns, keep track of that as well.
Step 4 – Create A Content Library
Content libraries are referred to as media resource databases, content repositories and digital asset banks. Whatever you want to call yours, just make sure you have one. This is a place where you store all your visual content. 
These visuals should be in a neatly organised space and not random folders on your desktop. If you need help finding decent visuals, check out our guide on royalty-free images. We discuss where you can find really great quality visuals without paying a cent.
There are many useful tools such as Google Drive and Dropbox that are great for storing content. These also have the benefit of cloud storage so you don't lose everything should your hard drive decide to pack up.
Just make sure wherever you store your content that there is enough space and it can be accessed from anywhere. It should also be safely protected but easily shareable with links that can be added to your content planner. Have an organised library or you will find yourself searching for old content for many hours.
Step 5 – Have A Proper Workflow
Right, now you have all your information gathered and your research completed. The time has come to start laying out the bones of your content planner. This is the point where you determine how often you will post to each of your channels.
You will establish the best times to share content on your social media platforms and decide who needs to approve posts. Next, you will determine how new content is searched for and created. You will also assign these tasks to your team members.
Step 6 – Create Your Posts
Now the fun begins. You've got your ideas and you're all fired up to get started. You've got genius content and it needs to be shared with the world.
Start crafting your posts so they are perfect for when they will be published. At this point, you can start getting a feel for your content planner as well. If there is anything that feels wrong while you work and use it, you can make adjustments. 
Create as many posts as you can without feeling like you're being burned out. If you get stuck, take a breather. Relax with a hot drink and take deep breaths. Pet a squirrel. Then try again. The good thing about creating content ahead is that there is no pressure to have something created within the next few minutes.
Step 7 – Get Your Team's Opinion
You've created content and to be sure it's good enough, call your team in to review. Get some fresh eyes on your work. Use their feedback to improve anything that is lacking or not quite what it should be.
Also, make sure that everyone involved in your marketing strategy has access to the content planner by now. Let them get back to you about the feel of your planner. Does it work for them? Do they find it unappealing or do they love how it looks?
Step 8 – Begin Scheduling And Publishing
A lot of content has been created, reviewed and approved. Now it is time to unleash it into the world. At least some of it. Start publishing the content that is meant to go live and schedule what needs to be shared next. You are not putting to test your content planner.
And there you have it – how to create and start using your own planner. Of course, as you use it, small specifics unique to your workflow and team will call for some changes. But we've got you pointed in the right direction with your one foot on the right road. Now take the next step and create amazing content!
If you want to skip some of the heavy-lifting and use a social media content planner that does most of the work for you, stay tuned. We will introduce you to the tool you're looking for.
SocialPlanner, The Best Content Planner You Can Invest In
We get that you're busy, that's why we think you'll love SocialPlanner. Here's a look at some of the services that you'll get access to when you use this content planner.
Discover Top-Performing Content
One of the core features on offer to users is the ability to discover and make use of trending and top-performing content. Finding such content from the web and social media is so important because you'll be able to cherry-pick the best online content directly, and use it as part of your social media marketing strategy.
SocialPlanner has powerful filters that you can use to narrow down your search to discover the most valuable content your audience would love to interact with.
Also, you can discover the best content in a quick, easy, and efficient way, and this can boost your social media following significantly. Thus ensuring maximum engagement with your fans or followers.
You can then post whatever content you find directly to your social media accounts or export to your desktop to use with another tool or manually.
This content discovery tool is an awesome feature because it allows you to combine and make use of top-rated content in a way that can drive your marketing forward. More than this, it allows you to see what other brands and businesses are doing well and what's driving results for them. It also allows you to take what others have done well, and do it better. That's how you become successful in the world of business. 
Make a Social Media Action Plan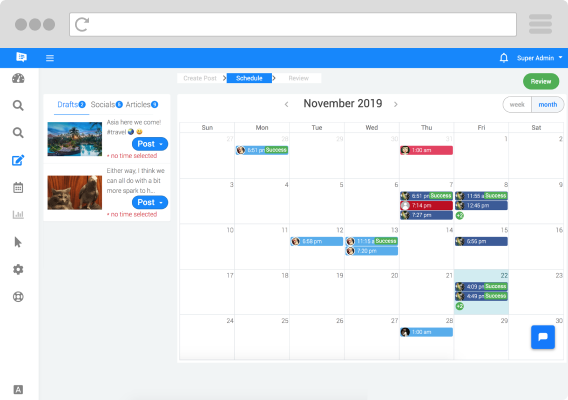 It is also really important to have a social media action plan that you can use to help impress potential clients, enhance your social media marketing and streamline your busy social media schedule on the fly.
SocialPlanner has the tools to allow you to do this.
The content planner has some really powerful features and allows you to plan your content marketing so as to ensure you have a clear and stress-free social media marketing strategy in place.
Users particularly love the user-friendly visual calendar which is an integral part of the content planner. Easy-to-use and incredibly well-organized, this drag and drop calendar is a must for all users looking to make the most out of their social media marketing, and get a clearer idea of their ongoing content plan for the future.
Publish Content to Multiple Social Channels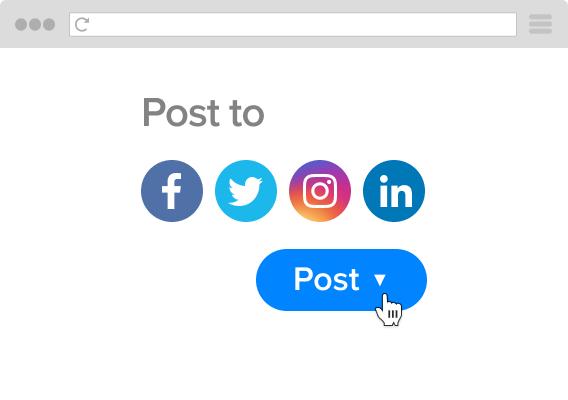 Users also have the ability to publish content to multiple social media channels at the same time.
We understand that it can be pretty overwhelming to have to manage a Facebook page, a Twitter profile, a LinkedIn page and an Instagram account all at the same time. However, for your business to get the success it deserves, each of these is going to need an equal amount of care, attention, and updating.
The ability to publish posts and content across multiple social platforms at the same time is a game-changer for the modern entrepreneur.
You can make your social media strategy much more efficient as a result, and you'll be able to reach out to customers on numerous platforms all at the same time. This will ensure correlation between your social media accounts, as well as allowing you to update your accounts and keep them relevant as often as you need to.
Enjoy Affordable Rates
We understand that running a modern business can be a potentially costly venture, and this is why SocialPlanner tries to make its rates as affordable as possible. There are three different price tiers for users looking to make the most of their social media marketing.
If you want to give this remarkable tool a try, you can start off with a free trial and see how great it is for yourself. You don't have to immediately start using a paid plan. You can first find out if the tool is what you need and then you can move on from there.
Conclusion
That is a lot to take in but we know that once you get started, everything will fall in place. We've shared our knowledge with you and now we hope you'll be able to create a content planner (or use SocialPlanner) to make the internet world a better place.
Remember to have all your research done and your data collected before you start. This will prevent you from making unnecessary mistakes. And have a brilliant social media content marketing campaign prepared.
If you've enjoyed our guide, feel free to head over to our blog and check out what else we talk about. If you've got some other strategies that have worked for you, don't be shy and comment below. We'd love to hear from you!