210+ Instagram Bio Ideas You Can Use In 2023
How to write the perfect Instagram bio
Writing the perfect Instagram bio can be a tedious topic. But with the right Instagram bio ideas (as detailed on this page), you can create the best Instagram bio in 2023.
150 words are all it takes to ensure you stand out from the crowd and is an important factor in introducing you as an individual.
Ensuring the perfect Instagram bio helps you to connect with your audience and a chance for you to increase traffic and create personal connections.
With that in mind, here's some ideas to help you to make your Instagram bio and enable you to stand out from the crowd.
Instagram Bio? What Is That?
An Instagram bio for your Instagram account is the perfect way to introduce you or your brand to your audience.
It can include a brief description of what services you offer and a chance to show off your personality, which in return can increase growth of your Instagram page, after all, it is the first thing a potential follower will look at.
Your Instagram bio will be located underneath your Instagram profile name.
The Instagram profile picture is what attracts followers to the Instagram account but the perfect Instagram bio is the main opportunity to gain an audience.
It is best established that using the provided space for your Instagram bio is a great way to get potential followers engaging with your services or brand and it does not have to be plain.
Your Instagram bio can contain basic information with just a few lines of what your brand or services are about, or you can go the extra mile and include fun hashtags and emojis which can really help to enhance your profile.
The basic rule is that Instagram bios are there for potential traffic to be increased on your profile and should include information that is relevant and concise in relation to what you are offering.
What should be included in the perfect Instagram bio?
To really ensure you have best Instagram bio available, it is best advised to include content that is best relatable to your brand or services. Is your brand or service national or international? how is your brand or service unique to you? and what outcome do you want when traffic visits your page?.
Another great idea for your Instagram bio is to include the use of website links to where your products can be found or how to purchase services.
Ensuring you have a link in your Instagram prompts users to additional products or services you may offer which in return will generate further traffic. You can include a link to your other social media platforms that will help to generate traffic to other branches of your brand.
It's a good idea to be creative with your Instagram bio but it should also help followers in understanding the purpose of your Instagram profile.
The use of line breaks can help your Instagram bio look neat and easy to follow, that way you're being simple yet descriptive of what your Instagram profile is about.
The 15 best Instagram bio ideas explored
Cute Instagram bios
If your brand or service is targeted to a more female population, the use of cute Instagram bios can help users really connect with your brand or service.
The use of quotes is a call to action that can help build a personal connection with potential followers and this is a positive component in building a good Instagram and the key to a good Instagram is to be creative, cute and fun which will prompt growth.

The use of relevant terms such as people powered and beauty all constitute to a cute and positive Instagram bio which is relevant to your target audience.
By the use of keywords, instantly followers get a feel for what the brand is all about and what services you are introducing as demonstrated. The Instagram bio is short and sweet yet delivers the message and with the use of link in bio, can really help to drive traffic to additional services offered by you.
Cute Instagram bio ideas
Daily dose of beauty
Feel good Look great
live life with no regrets
Beauty Vibes and High Tides
Aspire to Inspire
Judgement-free Zone
All Ages All Races All Genders
Capturing love, warmth, chaos and laughter
Everyday is a new adventure if you want it to be
Summer time fine
Daily dose of vitamin me
Pink since 2016
A smile is the best make up anyone can wear
Chin up princess or the crown slips
Be your own kind of beautiful
Cool Instagram bios
A cool Instagram bio is great to help your Instagram page to remain relevant and stand out. The cool factor can be introduced in a simple sentence or a short paragraph with line breaks and emojis.

Staying relevant to latest trends and incorporating that to your brand is a great way to ensure a cool Instagram bio that helps you to stand out from the crowd.
Cool Instagram bio ideas
Pizza lover, literacy motivator, crust stuffer, ninja, turtle, triangle
Unleash the Beast!
Stars cant shine without darkness
No one is you and that's your power
Don't wait until tomorrow
Be Kind Hard Work Stay Humble
Forget the failures, keep the lessons
There is always a way
When nothing goes right, go left
Go the extra mile, its never crowded
Life doesn't get easier, you just get stronger
Happiness is the new rich
Step inside to world full of crazy
Dream it, Believe it, Achieve it
Insert life story here…
Funny Instagram bios
A fun and creative Instagram bio while using the element of humour is a excellent way to engage the users attention and direct them to your brand name on Instagram. The best Instagram bios are the ones who use humour as a direct way to embrace the brand. Funny Instagram bios generate a lot more than just laughs.

Funny Instagram bio ideas
They say dont give up on your dreams, so i went back to sleep
I know im a handful, thats why you got two hands
My stomach is flat the L is just silent
I think you are suffering from lack of vitamin me
Life is short, smile while you still have teeth
I enjoy long romantic walks to the fridge
I would go out of my mind but i cant find the exit
I make pour decisions
My hobbies are breakfast lunch and dinner
Silence is golden unless you have kids then silence is suspicious
With great power comes a great electricity bill
Life is not a fairy-tale, if you lose your shoe at midnight your drunk
Young at heart slightly older in other places
sure my life isnt perfect but my hair is
Just winging it, life, eyeliner, everything


Creative Instagram bios
Generating a creative Instagram bio may or may not include the use of emojis but it can still have a powerful call to action to help potential followers get what your brand or services are about. Having a creative Instagram bio also showcases that you are not afraid to think outside the box.
The more creative the home of brand name the more likely that your Instagram profile will catch the audiences attention. Generating a link in your Instagram further helps to promote the creativity of your brand.


Creative Instagram bio ideas
Just a general life update = Hungry again
Reality called so i hung up
Are you made of copper and tellurium? because your cute
Coffee in one hand, Confidence in the other
Be(YOU)tiful
Happiness is a drug and i want to be your dealer
FOLLOW me and lets start a journey
Too glam to give a damn
Im a flamingo in a flock of pigeons
We are just trying to find some colour in this black and white world
If opportunity dont knock, build a door
Its about the journey not the destination
Add a little confetti to each day
No rain No flowers
Colours speak all languages
The use of incorporating trends with the brand, shows the audience that the brand is fresh and relevant to fit in with the changes that are prompted within society.
Being fun and creative is seen as imperative when designing a Instagram bio. The more creative your Instagram bio is the more it will grab a potential followers attention. All the best Instagram bios and the cool Instagram bios all follow a common trend of creativity.
Emoji Instagram bios
Emojis are a great and creative way to express yourself when words aren't enough. Line breaks and emojis conjure up a image that your brand or services are fun and appealing.
The simplicity of emojis enable you to describe your Instagram profile in a universal language without the use of any words. Emojis also help to simplify and enhance the purpose of the Instagram page, whether the page is on fashion or food, there is a emoji for nearly everything.

The use of emojis in the link in bio helps to create a simple universal language and represents what the purpose of the links are. The use of line breaks help to further simplify the Instagram bio and ensure a more seamless Instagram business experience.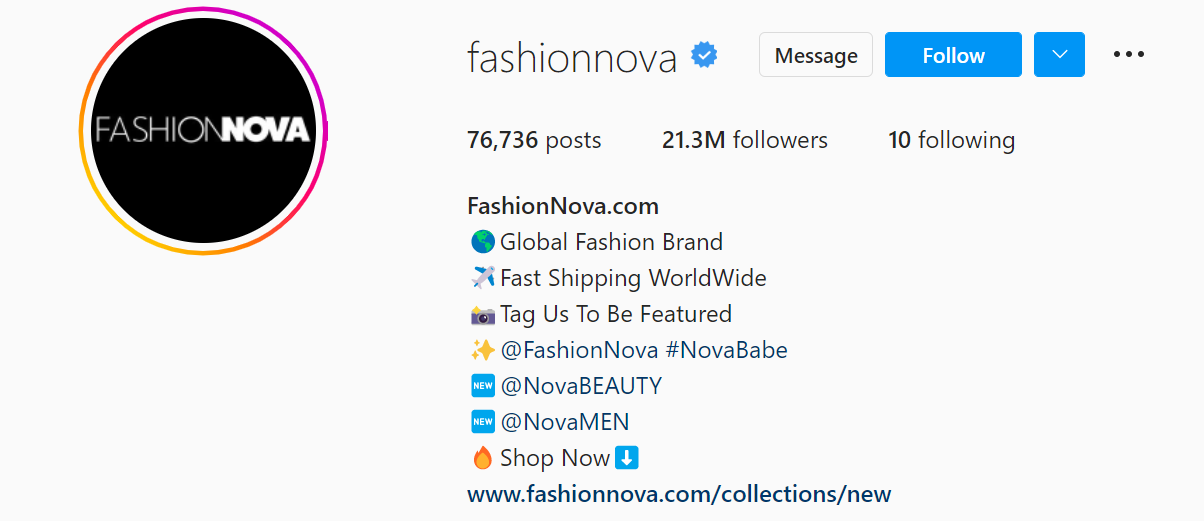 As demonstrated, the emojis have helped to add some emphasis on what the brand is about also adds a creative and fun flair to the Instagram bio. The use of emojis have also helped to break down the text in the Instagram bio making it easier to follow and gives a direct link on where the products or services can be found. Afterall pictures speak a hundred words!
Emoji Instagram bio ideas
👋+ 💕+ 👙+ 👠+ 💄+ 👝+ 💅 Fashion addict and full time make up maniac
👨‍👩‍👧‍👦+ 🏡+ 🐶+🐱 Family is the zest of life
❤️+ 🍔+ 🍟+ 🍕+ 🧁+ 👩‍❤️‍💋‍👨My love for food is eternal, daily food inspiration!
✈️ + 🏖 + 🏝 + 🏜 + 🗺 + ⛵️ There's still pages in my passport that need stamping 🏞 🌞WANDERLUST
😃+ 🏀+ 🏈+ 🏋️‍♀️+ 🍏+ 🍌+ 🧋Happiness, Sports and Food! The ingredients that make me
👫+ 👶+ 🤰+ 🍼 + ✈️ + 🏝 Mum to be, Baby coming 2023! Catch flights not feelings!
🇱🇦 ➡️🛬🇻🇦 – Starting a fresh new outlook on life, follow me on my journey to a better me
Simple Instagram bios
A Instagram bio doesn't have to be complicated or fancy, it can be simplistic and one that best gets the audiences attention and provides direct answers to frequently asked questions.

A simple yet effective Instagram bio can direct traffic visiting your page to the correct direction to generate further traffic to a primary source of where additional products and services can be sought.


Simple Instagram bio ideas
A soul full of sunshine
Day Dreamer
Sunshine, Food, and Good Vibes
Be you, Do you, For you
Mindset is everything
But first… Coffee
Be a voice, not an echo
You're an icon
collect beautiful moments
I like avocado toast
Be savage, not average
my journey my life
Pure vibes
wild and free
you had me at hello
Instagram bio that includes links
An Instagram bio that encourages users to click the link is highly beneficial. It works well and also limits the need of using the full 150 characters describing what the brand can offer. Links are extremely resourceful and will incline the user to further explore the brand.
It is suggested that users who have the resources ready for them to use will most likely be encouraged to expand their search which in return will allow the brand to branch out further.
It is also suggested that the use of link the in bio will increase the chances of a product or service being purchased by the user. Other branches of social media can also be incorporated within the link in the bio such as links to Facebook and Twitter feeds.

Popular makeup brand Too Faced has included a link to their website where users can browse and purchase Too Faced products.

Another example of how clothing chain ASOS have included the link in the bio element to encourage users to explore the Instagram pages dedicated to the specific areas of services.

Best Instagram bios
The best Instagram bios are a combination of both fun and informative in a package that is best suited for your audience.
The Instagram bio does not need to be long and informative or give a comprehensive view on the purpose of the page, it should ideally be short, snappy and readable with the main highlights of what the page is offering. It can be as witty and fun to reflect the brand or as professional as desired, as long as it directly impacts the audience and gives the page a main purpose of its reason to be on the platform.
The best Instagram bio can also get the audience's attention with an indirect or direct question that stands out, that will draw the potential follower in to learn more about the page.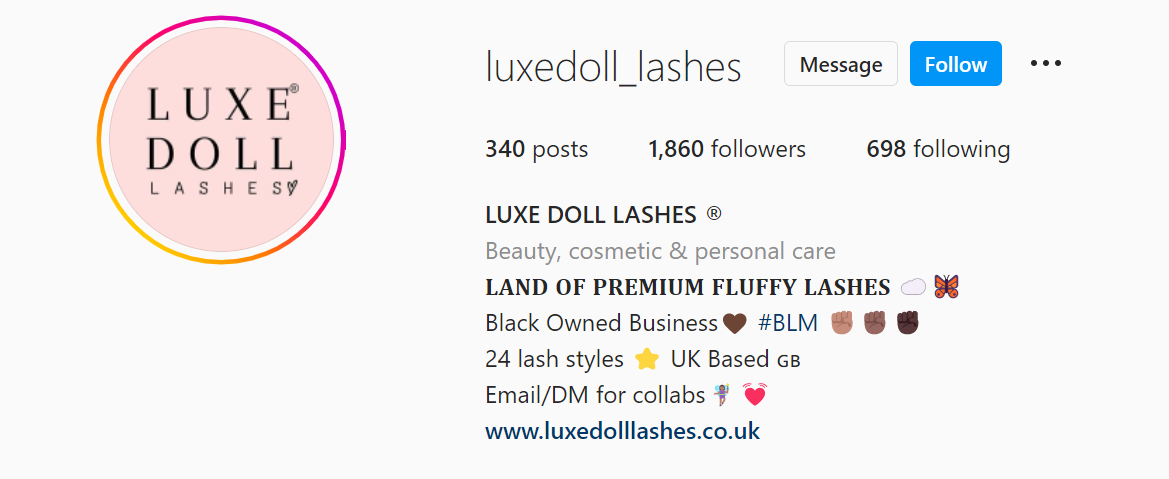 This brand has included a witty, fun heading with some basic information on how to collaborate with the brand, how many products they have and where they are based, which already gives a potential follower a overview on what to expect if they follow.


Best Instagram Bio Ideas
Be Perfect? Not Today
With a brave heart, anything is possible
Simplicity is the ultimate sophistication
You are responsible for your own happiness
The whole world is built on two words, WHAT IF?
Everyday is a second chance
Stay Weird, Stay Different
I'm on the pursuit of happiness
Wake up – Instagram – Sleep – Repeat
Cinderella is proof that a new pair of shoes can change your life
Welcome to my world
Behind the scenes of the unseen
I have 2 things that will never be broken, ambition and a heart
Smile, before it goes out of style
I'm out to claim what's mine
Instagram bio for business
Sharing a business on Instagram is the ideal way to get the brand or services known on an international level. Many well known and start up businesses all have a Instagram page dedicated to showcasing new product releases as well as keeping the target audience up to date with new information.
Adding relatable information such as shipping, opening hours and where to buy to the Instagram bio can really help the business profile page. Providing information such as discount codes, new product releases and upcoming promotions can aid in brand awareness.
The official home of brand should be featured in the Instagram bio as well as other social media users can access. Using a branded hashtag is very useful for your Instagram bio but remember to add line breaks to create a aesthetic and professional Instagram bio.



Business Instagram bio ideas
Free Shipping for a limited time
Use discount code
social media link in bio
check out my latest blog post
hit that follow button for exclusive content
Shop our Instagram
Contact information for any questions below
The official home of (brand name)
copy and paste code for 50% off
Tag us in your pictures for a chance to be featured on our Instagram page
share your photos with us using (hashtag)
check out our best featured posts
FLASH SALE! for a limited time only
blessing your Instagram feed since 2019
find our latest blog post on some fresh new looks, link in bio
Informative Instagram bio
An Instagram bio that is informative can really help your Instagram page. The Instagram bio can help to deliver and announce news regarding the brand or inform the audience of any personal news that may be chosen to be featured.
The key importance is to ensure that the Instagram bio is updated at regular intervals. This can be as creative or informative just as long as the desired outcome is captured. The Instagram bio can be used as a place where regular updates are published, a bit like a Facebook status update.

This Instagram bio is telling the audience that the haircare brand is low in price and cruelty free which already gives a lot of information on what the brand ethos is.


Informative Instagram bio ideas
Opening hours are from 9am til 5pm everyday
Copy and paste this link
Try our new range
We are here to answer your queries from 8am
DM us with your questions
Follow us on our other social media platforms
Serving you since 1994
follow the link in bio for terms and conditions
Link in bio to enter competition
This Instagram page is not moderated
New content released every Friday at 12pm
For customer service, please use contact information below
Any DMs sent after 8pm, will be answered the next working day
For updated information on products, please visit our sister Instagram page
Instagram bio with hashtags
Generally hashtags are a excellent way to get a page discovered as they are clickable links that invite an opportunity to gain more followers and allow the Instagram page to build a large portfolio.
However, when promoting a brand or service, it should be mindful that adding a general Instagram hashtag will not entirely result in the page being discovered.
The take-away advise would be to add a branded hashtag that is in a direct relationship with the brand or service. By using a branded hashtag, followers are more likely to see the brand or service being promoted by other followers of the page which can result in more brand awareness and a further potential for the Instagram page to gain a wider audience.
Instagram bios will not be discovered if only a generalised hashtag is used but a branded hashtag could further boost the potential of the Instagram bio being made visible to the target audience.

This brands catchphrase has incorporated a branded hashtag in the Instagram bio, which users can click on and see how other followers are relating themselves to the brand.


Instagram bios with categories
Instagram bios that include categories on what the page is can help potential followers get a feel on what the page is promoting and what to expect.
When creating a business profile on Instagram it is important to make use of categories so that the space provided for the Instagram bio is not being polluted with too much information regarding the brand.
The category of the Instagram page will appear directly underneath the Instagram profile picture for users who are on a mobile device.

An example of how this brand has used the dynamic of categorizing the page which users can then make a clear concise judgment of what they can expect to see.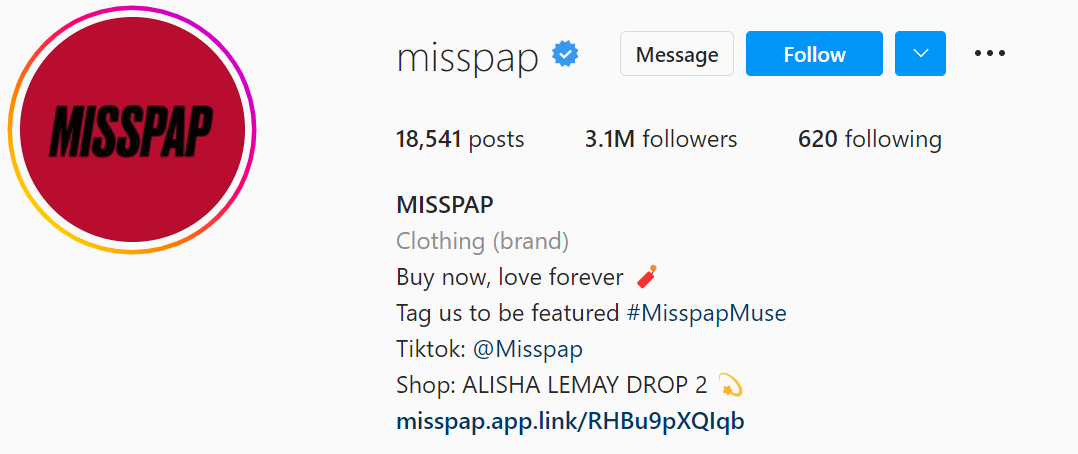 Instagram bios with location
When it comes to promoting an online business, whether it be Instagram or any other social media platform, it is always useful to include the location as the location has 3 main benefits.
It can help identify where the business or brand is from or its origins
It can benefit from local businesses being more discoverable
It helps to build a better relationship with the buyer/user
When an Instagram page decides to use a location in the Instagram bio, it does not use up any of the 150-character word count which can be beneficial as the business or brand can add more information without thinking about space in the Instagram bio.
There is however a small disadvantage to this, the location is currently only available on mobile devices however this could be overcome by adding a small section or a line in the Instagram bio of the location of the business or brand which again does not entirely disturb the word count.
Another idea that could be useful to ensure both mobile phone users and web users benefit from the location being discoverable is to look at the use of emojis or symbols added to the Instagram bio that further reduce the need to compromise on Instagram bio space.

This is a prime example of how a brand or business can make the location look aesthetically pleasing with the use of emojis.


Instagram bios with quotes
Instagram bio quotes are eye-catching openings to add to an Instagram bio that can demonstrate the creativity of the brand or business.
Instagram bio quotes can help build connections with potential followers for example a song lyric or a famous saying may be the attracting factor to the target audience which in return can make the brand or business more discoverable as more people will build a personal connection to the Instagram page.
The more personal and relatable an Instagram page is, the higher chances it will attract followers. If choosing to use Instagram bio quotes, it is always best practice to include the original source of the quote.
Instagram bio quotes ideas
Life is like riding a bicycle, to keep your balance you must keep moving – Albert Einstein
Those who dare to fail miserably can achieve greatly – John F Kennedy
Life is like a box of chocolates. You never know what you're going to get – Forrest Gump
That's one small step for man, one giant leap for mankind – Neil Armstrong
If you judge people, you have no time to love them – Mother Theresa
I have no special talent, I'm am only passionately curious – Albert Einstein
Shoot for the moon. Even if you miss, you'll land among the stars – Les Brown
Nothing is impossible, the word itself says, I'm Possible – Audrey Hepburn
The way to get started is quit talking and being doing – Walt Disney
Turn your wounds into wisdom – Oprah Winfrey
You like my hair? Gee thanks just bought it – Ariana Grande
All you need is love. Love is all you need – The Beatles
Actions speak louder than words – Abraham Lincoln
A penny saved is a penny earned – Benjamin Franklin
Be loyal to your own piece of mind – The Weeknd
Instagram Bio how-to guide
Adding line breaks to Instagram bio
Line breaks are great to ensure the Instagram bio looks flawless and professional. This is how to add line breaks for the perfect Instagram bio.
Finish writing a line or sentence, adding emojis is great for ending a sentence.
Press enter to start a new paragraph
Once the paragraph/sentence is complete, press enter
Line breaks are now added to the Instagram bio
An example of an Instagram bio with line breaks.
Adding hashtags to Instagram bio
Open up the Instagram page
Click on 'edit profile'
Head to the bio section
Once at the bio section, click on the bio
Type a branded hashtag or a general hashtag
Select the hashtags desired and click submit

An example of a hashtag displayed in an Instagram bio.
Adding a call to action button
A call to action button prompts the user to explore more of the brand or service and promotes further traffic to branch out to other areas of the brand or service.
Start by opening the business profile on Instagram
Choose the option to edit the profile
Once on the edit profile, there is an option to select business information
There should be an option to select contact options
Click on add an action
There is a selection of action options available such as call, directions, text, and email
Select the action that's best suited for the Instagram bio
Select submit to save changes made.

Demonstration of how a call to action can be used in the Instagram bio.
Adding links to Instagram bio
Links add a dynamic approach to visitors who explore the Instagram page dedicated to the brand or service. Adding links such as a website or other branches of social media helps to divert traffic to further explore what the brand or service is offering increasing how users engage with the brand or service.
Select the edit profile option
Once the website field has been located, click on it and enter the URL of the desired website
Click submit to save
This brand has incorporated another branch of their social media as a link in the Instagram bio.
Adding a category to Instagram bio
Whether the Instagram page is related to a public figure or is related to a beauty business, categories are really helpful in helping users understand the prime purpose of the business or service.
Open up the Instagram business profile
Select the edit profile option
Under section 'public business information' the subsection for 'category' can be located
Select the category the Instagram page best fits
When the category has been selected, click 'done' to update the Instagram profile.
An example of how categories can help define the purpose of an Instagram page.
Adding a location to Instagram bio
Adding a location is a very quick and easy way to encourage more followers as it builds a personal connection to the audience and depending on the type of Instagram page such as a restaurant, vital information can be displayed at the user's convenience.
Open up Instagram
Select the option for 'edit profile' which can be found under the Instagram profile picture if on a mobile device. For web users, the 'edit profile' button can be found next to the brand or service name.
There is a section called 'public business information' this is where 'contact options' can be found.
To add a location, select 'Business Address' and fill in the boxes for the business
Once all the information is complete and is at a satisfying level, select 'Done'
To save the business address to the Instagram bio, select 'Save' and it should show up on the Instagram bio.